U.S. Chamber of Commerce Membership
Small business members with fewer than 100 employees: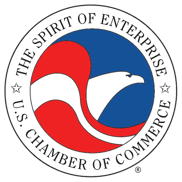 You're eligible for FREE membership with the U.S. Chamber of Commerce
If you're a small business* member of the Greater Green Bay Chamber, it's FREE to become a small business member of the U.S. Chamber of Commerce through its Federation Partnership Program.
The U.S. Chamber is all about small business; in fact, more than 96% of its membership are small businesses with 100 or fewer employees.
Why should you take advantage of this membership?
There is no cost to the membership
U.S. Chamber of Commerce small business toolkits to grow and strengthen your company
Discounts with FedEx and MetLife
Members-only access to an online community of small businesses that offers open exchange of information and ideas.
Access to exclusive webinars and conference calls, many with high-ranking legislators and decision-makers
Legislative alerts of interest to small business owners, notifying you of pressing policy initiatives based on issues you select
Free access to online subscriptions to their newsletters and magazine to keep pace with policy initiatives and stories of free enterprise
Ability to place U.S. Chamber of Commerce logo on your website
To take advantage of it, contact Allison Rodriguez at 920.593.3423.