How Breakthrough Drives Real Emissions Reduction Progress
Posted on Jun 22, 2023 8:52:16 AM by Breakthrough
Breakthrough, a Green Bay-based strategic transportation management company, is on the path toward being carbon neutral and encouraging companies across the globe to follow its lead.
In 2019, Breakthrough embarked on a digital transformation with a primary goal of shifting their products to the cloud. Additional value that came out of this project was moving away from high energy-consuming data centers. This move was the first of many that led to Breakthrough becoming carbon neutral in 2022.
Since achieving this milestone, Breakthrough launched two solutions for companies seeking to decarbonize their own operations: CleanMile and ZeroMe.


You Can Track Scope 3 Emissions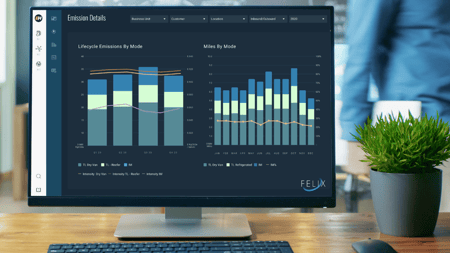 CleanMile is the first end-to-end transportation emissions management solution that enables companies to track, plan and execute scope 1 & 3 transportation emissions reduction initiatives. With scope 3 emissions typically comprising 80 to 90% of a company's entire carbon footprint – and often the most difficult to track and manage – the transportation emissions management tool combines smart technology, robust data, and expert support to enable companies to make real progress toward their emissions reduction targets or goals.
CleanMile is accredited by Smart Freight Centre (SFC) in conformance with the Global Logistics Emissions Council (GLEC) framework. Designed to inform business decisions and steer efforts to reduce emissions, SFC's GLEC framework is the only globally recognized methodology for harmonized calculation and reporting of the logistics GHG footprint across the multi-modal supply chain. CleanMile was also recognized as a sustainable service award by SEAL (Sustainability, Environmental Achievement & Leadership) Awards in 2023. CleanMile collects, analyzes, and mobilizes load-level transportation data to establish an emissions baseline, recommend reduction initiatives, and take action
Sustainability is a Team Effort
In November 2022, Breakthrough, in partnership with parent company U.S. Venture, internally launched ZeroMe, a sustainability engagement application, which helps employees track their carbon footprint and learn about company-led sustainability initiatives. ZeroMe offers companies an effective way to prove culture and value claims about sustainability at an enterprise level – including scope 3 emissions.
Breakthrough Inspires Real Change
Breakthrough continues to develop new, innovative ways to reduce emissions across organizations and supply chains. With a dedicated team of sustainability and data analysts proactively monitoring the progress of ESG policies and emerging sustainability developments, Breakthrough has the resources and infrastructure needed to adapt and generate tangible market insights to make emissions reduction progress.
To learn more about Breakthrough, visit BreakthroughFuel.com.
---
About Breakthrough
Breakthrough, a U.S. Venture, Inc. company, is a leading innovator empowering shippers with data, technology, and market knowledge to reduce cost, create fair partnerships, and improve transportation network efficiency and sustainability. By leveraging a robust dataset of over $25 billion in annual freight spend, Breakthrough uncovers freight optimizations and removes distortion from traditional transportation practices. Together with its shipper clients, Breakthrough is transforming the transportation industry by building a more effective and sustainable freight ecosystem. The company was named to Fast Company's Most Innovative Companies in Logistics in 2021, is a recipient of the prestigious "Winning Through Innovation" award from Unilever, and is a five-time recipient of Procter & Gamble's "External Business Partner Excellence Award.
---
*Blog post is result of a Chamber event sponsorship package*