Signature event
Business Recognition Luncheon Awards & Showcase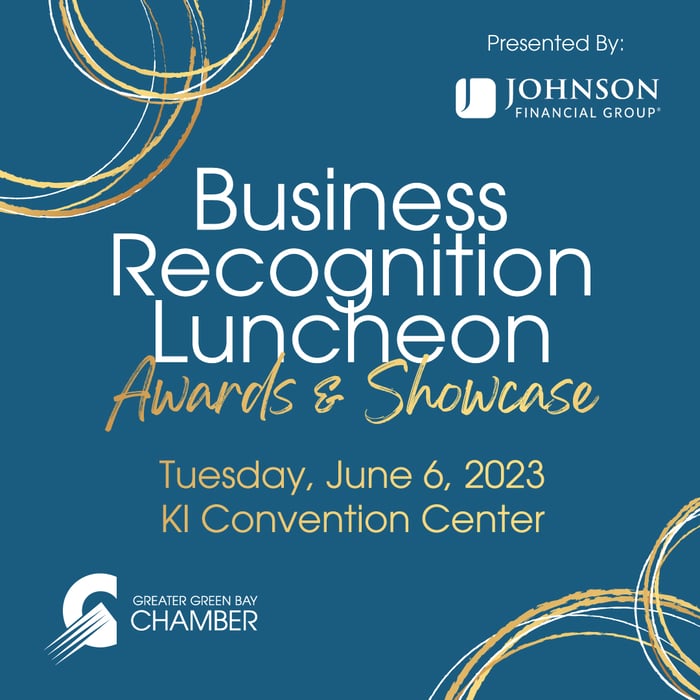 A celebration designed to recognize and honor individuals' and companies' achievements, growth, innovation, and exceptional business practices in Greater Green Bay. Please join us and show your support for the accomplishments of local businesses.
2023 Event Details
Date: Tuesday, June 6, 2023
Time: 11 a.m. - 2 p.m.
Location: KI Convention Center, 333 Main Street, Green Bay
Attire: Business Casual
Ticket Sales Have Closed.
Event Agenda:
11 a.m. | Doors Open
11 – 11:45 a.m. | Business Showcase & Networking
11:45 a.m. | Welcome & Program Begins
12 p.m. | Lunch
12:30 p.m. | Awards Presentation
1:15 p.m. | Business Showcase, Networking, & Dessert | VIEW EXHIBITORS
2 p.m. | Event Concludes
Parking: Parking is available in the Main, Pine, and Cherry St. parking ramps. Parking in the Pine St. ramp is encouraged due to multiple exits and can be easier to depart than the Main Street parking ramp.
Please pull an entry ticket when you enter the ramp.
Vouchers will be available at the registration tables for the event. Please be sure to pick up and hold tight to the voucher you receive for free event parking. If you do not pick up a voucher, parking fees will be your responsibility.
When exiting one of the three available parking ramps (Main, Pine, and Cherry St.), you will need to scan your entry ticket displaying how much is owed, then scan the voucher second for waived fees. It is a two-step process. This will complete the transaction and the gate will open so you can exit the ramp.
As a non-profit, all funds received from this event directly impact and support the critical programs and operations of the Greater Green Bay Chamber. Therefore, we do not issue refunds for cancellations. We appreciate your understanding.
2023 Award Finalists

Cornerstone
| | | |
| --- | --- | --- |
| | | |
Entrepreneurial
Growth
Special Accomplishment
| | | |
| --- | --- | --- |
| | | |
Business Person of the Year
Paul Snider

KBX

Bill Koehne

Packerland Websites

Ben Schill

Paper Transport
Award Descriptions
Business Person of the Year Award
Recognizes a local business leader who has demonstrated achievement in ownership or management of a business, or who has made significant contributions to the business environment in Greater Green Bay.
Cornerstone Award
Recognizes a local company operating for at least ten years that has demonstrated significant and long-term impact on Greater Green Bay. Additionally, it will show active participation in the business community, support community development efforts, and/or make an impact on the local community.
Entrepreneurial Award
Recognizes a local business operating for at least two but not more than five years. The business will have demonstrated business success, implemented a unique strategy, and/or made an impact on the local business community.
Growth Award
Recognizes a local company operating for at least three years, and under current ownership has demonstrated significant or continuous growth in sales, services, and/or number of employees.
Special Accomplishment Award
Occasionally, there are special circumstances that have occurred in the past year(s) deserving this award that recognizes a local business, organization, or person for an extraordinary achievement other than excellence in entrepreneurialism, business growth, or cornerstone contributions.
Thank you to our 2023 sponsors