Business Resources
Startup Hub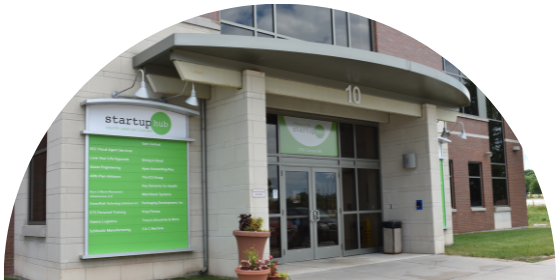 The Startup Hub, powered by the economic development team of the Greater Green Bay Chamber, is both a physical space and the virtual front door to the Greater Green Bay entrepreneurial ecosystem. It offers a centralized starting point for entrepreneurs, innovators and businesses seeking resources in the Greater Green Bay area. Our staff listens to your unique business needs and can point you in the right direction.
The Startup Hub is at your service
The Startup Hub's physical facility features 50,000 square feet of opportunity, configured into offices, office suites and manufacturing bays, as well as a designated area for virtual clients.
All clients who secure space in the Startup Hub physical facility pay a flat monthly rate that includes all of the following:
A beautifully-appointed facility that was recently renovated and includes new technology in all conference rooms

Individual offices include general office furniture including desk, office chair, two side chairs and filing cabinet

Office suites include four office cubicles, two standing cubicles, a reception desk; all offices are furnished with general office furniture including a desk, office chair, two side chairs and a filing cabinet

All utilities, maintenance and basic housekeeping

High-speed Wi-Fi

A receptionist who greets your clients upon entry to the Startup Hub from 8 a.m. to 4:30 p.m., Monday through Friday

Daily mail delivery/pickup with designated mailboxes

Access to a fax machine

Network copy/printing is available at $0.10 per color sheet and $0.05 per black and white copy – much less than you'd pay at a copy shop

Dedicated parking

Access to presentation and video conferencing equipment

Secure, 24-hour access to the building and shared services

A well-equipped and renovated micro-market kitchen

Access to Northeast Wisconsin Technical College campus security and First Responders

Access to a dedicated mothers' room onsite

Everyday interaction and collaboration with fellow entrepreneurs and business owners
Physical and virtual spaces
Professional Offices
All offices are furnished with general furniture, including: Desk, office chair, two side chairs and filing cabinet. Space is available in individual offices approximately 161 square feet. Pricing includes all Startup Hub amenities.
Contact for Pricing
Professional Office Suites
Office suites include: two to four cubicles, two standing cubicles and a reception desk. All are furnished with general office furniture including a desk, office chair, two side chairs and a filing cabinet. Suites are approaching 1,000 square feet. Pricing includes all Startup Hub amenities.
Contact for Pricing
Manufacturing Bays
Manufacturing bays can be customized to your business' needs. Some bays are up to 1,000 square feet, though the Startup Hub will prorate the rent for as little as one-fourth of a bay if that is what you need. For more than 1,000 square feet, bays can be combined.
Contact for Pricing
Becoming a client
Does the Startup Hub suit your business needs?
Pricing varies on office or manufacturing bay size. Please contact Ron Franklin at 920.496.2110 or StartupHub@GreaterGBC.org for more information.
Follow the Greater Green Bay Chamber Economic Development social channels!
Certificate of Origin
Welcome to the online processing system for your Certificates of Origin and all other certified documents for export. Please click the link below to get started!
We are now offering Certificates of Origin to the entire state of Wisconsin!
Please note:
These are processed on a 3rd party site. Clicking on one of these links will take you to our processing page on their website. It is a secure system.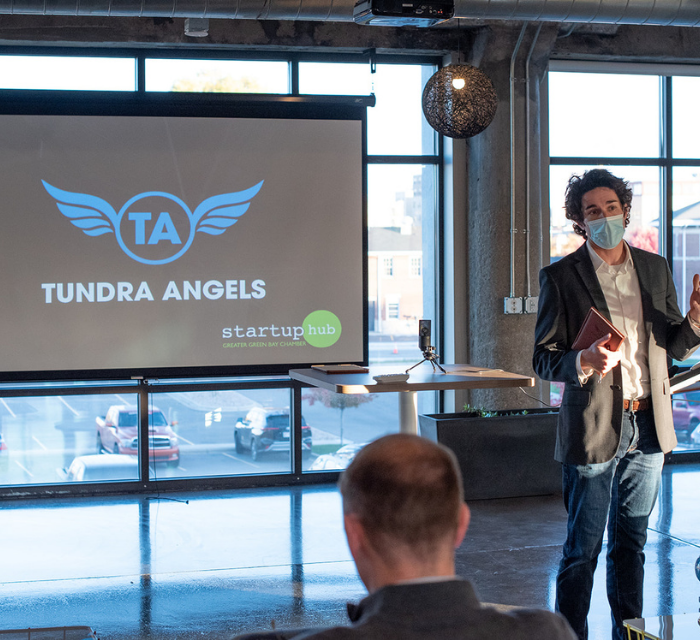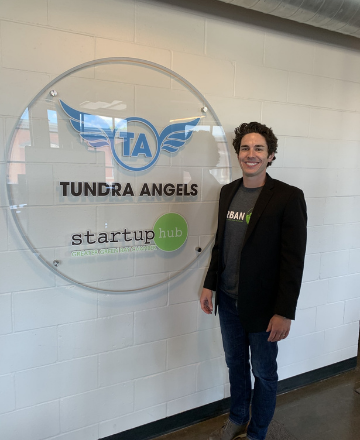 Investing in the future
Tundra Angels
Throughout the journey of entrepreneurship, startup founders often struggle to make progress. Whether it's an idea-stage company or a company with active customers, each founder has a definition of what "progress" means to them. In this journey, they fight headwinds to overcome barriers or to resolve questions. Tundra Angels is an angel investor group that is in the business of delivering hope to entrepreneurs so founders can reach the next milestone without wasting precious time. 
We deliver:
Capital




We invest money in early-stage, high-growth potential companies at the pre-seed or seed stage. 

Connections




We make strategic connections from our networks – technical co-founder, advisor, subject matter expert, etc. – to force multiply startup progress and get to market more quickly. 

Customers




The best type of funding is customer revenue. For companies that Tundra Angels decides to partner with, we identify strategic customers and make appropriate introductions. 

Tundra Angels is an offering of the Startup Hub, powered by the Greater Green Bay Chamber. Tundra Angels is an outflow of the Greater Green Bay Economic Development Strategic Plan. It's about making Greater Green Bay, the region and Wisconsin an attractive place for startups and talent and ensuring that great people and great ideas stay here and build world-class businesses.
Connect with Tundra Angels at TundraAngels@greatergbc.org.
WE DELIVER NEW OPPORTUNITIES TO INVESTORS
An ever-increasing personal network
Connect with other Tundra Angel members who are successful founders and entrepreneurs across the community and region. Engage with a continual flow of innovative founders and talent with fresh, ground-breaking ideas.
Opportunity for investment returns
Tundra Angel members will receive a deal flow of attractive startup investments. In the "Returns of Angel Investors in Groups" study, the average angel investor obtained approximately 2.6 times the investment in 3.5 years – a 27% internal rate of return.
Influence the next generation
Membership in Tundra Angels is something bigger than any one of us. Recent research shows that tech startups are drawn to cities with small but frequent funding opportunities. As a Tundra Angel, you play a role in helping Greater Green Bay and the region thrive for the next generation.
Investment Decision
In Tundra Angels, investors make their own investment decisions and perform their own due diligence. The manager's role is to filter and present the deal opportunities he believes are the best fit for the group and the members' experiences. There are no final decisions made at the pitch meeting; rather investment decisions are made over the course of the following weeks through due diligence conversations with the founders. Post-investment, Tundra Angels will continue to be involved in providing connections and customers to the portfolio company. 
Initially, Tundra Angels' average investment size is between $50,000 to $100,000. 
Membership Criteria
REQUIRED 

STRONG PREFERENCE

A younger generation of investor
(average member age range is between 30-40)

Founder/entrepreneur experience
Interested individuals complete an application and prospective Tundra Angel investors are vetted through a peer-review process.
To discuss Tundra Angels' membership, please click here.
Matthew Kee, manager
A former startup founder turned investor, Matthew Kee understands the barriers to startup progress. Extremely founder-focused, Kee collaborates with founders so that every interaction is a step towards progress – whether it be in discovering a key insight, narrowing in on the market problem or making a strategic connection.  Kee was previously was the co-founder and CEO of UpperRoom Technology, a capital markets tech startup in the fixed-income industry, that went through the Wisconsin-based accelerator gBeta in 2017 and raised venture capital from FIS in 2018.
Prior to being a startup founder, Kee was a bilingual Spanish/English relationship banker at JP Morgan Chase where he attained his Series 6 and Series 63 FINRA investment licenses and advised high net worth clients on investment products.  He has a bachelor of science degree in international business and Spanish from Olivet Nazarene University and both a master's of business administration and master's of science in entrepreneurship & innovation from Indiana University.