Greater Green Bay Chamber
Government Affairs
The Greater Green Bay Chamber's mission to strengthen member businesses by enhancing economic and workforce development is rooted in Government Affairs.
Local, state, and federal government officials make decisions that have an immense impact on local businesses and the economy. The Chamber is the business community's non-partisan voice, advocating for policies that enhance the quality of life in our community and region.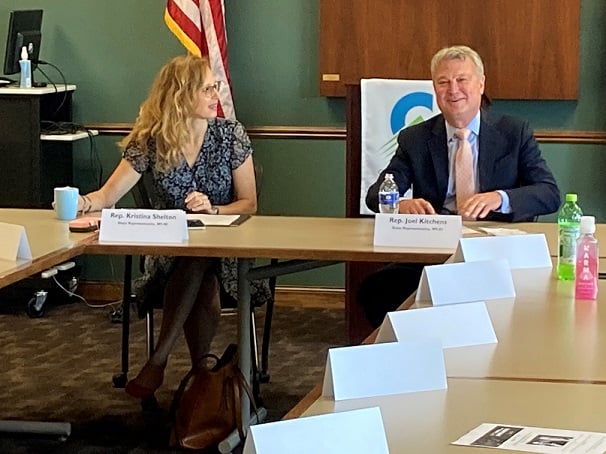 Programs & Events
The Chamber succeeds in representing the business community through:
Advocacy on business-related issues at the local, state, and federal levels

Connecting business and representatives at events such as:

(BYO) Lunch with Legislators

Business Day in Madison

The Greater Green Bay Council on Foreign Relations

Detour Direct

Providing our members with updates on construction to crucial transportation corridors in the state

Providing Policy Priorities

The Public Policy Council
For more information and to register for these events, visit our Events page or contact Rick Sense.
Acting as the voice of business
The Greater Green Bay Chamber understands business professionals are focused on their day-to-day responsibilities and may find it difficult to participate in the daily policy debates which can impact their future ability to grow and modernize. The Chamber serves as the voice of business in our community by looking out for the best interests of area employers and their employees at all levels of government.
Public Policy Council
This is a group of community and government affairs advisers from Chamber member companies and allied business organizations who advise the Chamber's officers and board of directors on public policy positions. Through the legislative agenda or individual position statements, the Council may recommend action on local, state, or federal issues affecting business, including legislative and regulatory matters.


Legislative Agenda
Every two years, the Chamber's Public Policy Council sets a legislative agenda based on conversation and debate with Chamber members and leading area experts. The agenda outlines the Chamber's local, state, and federal public policy priorities.


Legislative Scorecards
Annually, we work collaboratively with the Northeast Wisconsin Chamber Coalition (NEWCC) to compile legislative scorecards of how legislators voted on business issues of relevance to our membership and legislative agenda.