Fall 2022 Event Details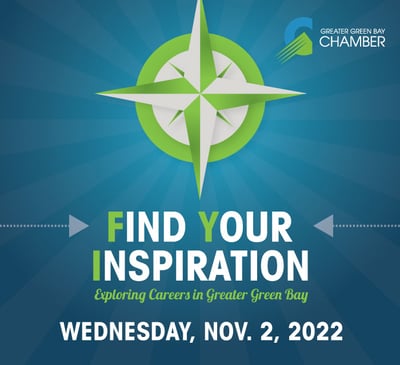 The Find Your Inspiration Experience provides the opportunity for eighth grade students to be exposed to different industries and career fields in Greater Green Bay.
This experience can guide the students as they prepare to sign up for high school and/or college classes and determine a pathway to their dream jobs--whether through a four-year degree and beyond, the military, an apprenticeship or an on-the-job training pathway.
Date: November 2, 2022
Location: KI Convention Center, Green Bay
EDUCATORS
The Find Your Inspiration Experience daytime career exploration event will welcome educators and their students from area districts. Each school will be scheduled a specific time to arrive and depart the event between the hours of 8 a.m. and 2:30 p.m.
During the scheduled time, educators are encouraged to engage with employers and gain knowledge and ideas to bring back to the classrooms to continue to inspire youth to reach for their dreams.
EMPLOYERS/PARTNERS
Promote the discovery of passions, spark career conversations with an exhibitor booth and offer engaging activities to inspire students for a path to a successful future.
Join and support our efforts to excite youth about the workforce, job opportunities and apprenticeships and the different industries in Greater Green Bay by exhibiting at the Fall 2022 Find Your Inspiration Experience.
Thank you to our event sponsors