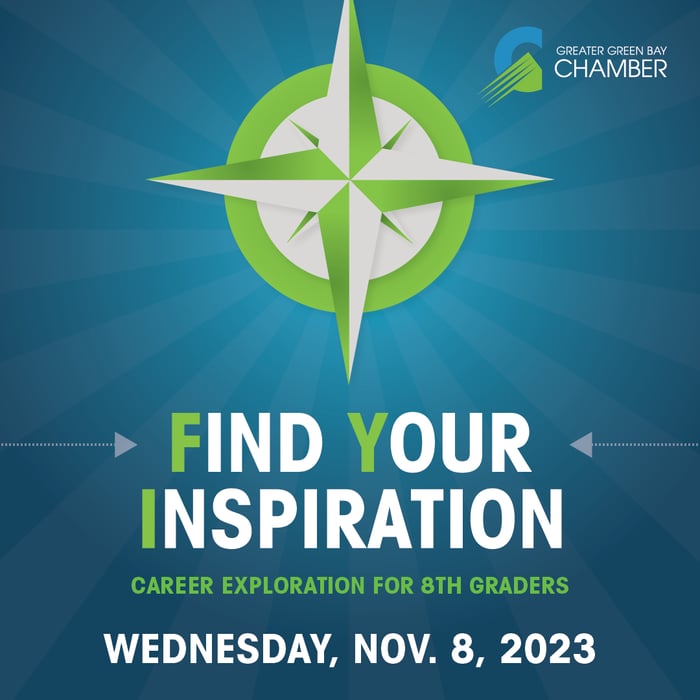 Event Details
Find Your Inspiration is a career exploration event for Greater Green Bay 8th graders. The event provides businesses the opportunity to help the future workforce gain knowledge on the different careers available to them.
Date: Wednesday, November 8, 2023
Time: 8 a.m. to 2:30 p.m.
Location: KI Convention Center
333 Main St., Green Bay, WI 54301
Parking: Main Street Parking Ramp (at your expense)
Event attendees are Partners in Education schools.

Participation Benefits
Exhibitors
Invest in your future talent pipeline. Expose students to your industry and career fields within your organization.
Top 3 Benefits of Event Participation:
Market and educate students about your organization and careers available in our community
Assist in attracting and retaining our community's talent
Provide your organization's employees/members a way to share their career passions
Pricing:
A single booth includes ($425 members/$525 nonmembers):
A 16' x 6' exhibitor space
One (1) 8' table with two (2) chairs
Two (2) lunches for your company's representatives
Pipe and drape
Listing on event map
A double booth includes ($850 members/$1,050 nonmembers):
A 32' x 6' exhibitor space
Two (2) 8' tables with four (4) chairs
Four (4) lunches for your company's representatives
Pipe and drape
Listing on event map
Educators
If you are a Partners in Education school and would like information on attending, please contact Molly Ruch.
Event Format
Upon arrival, students enter a Welcome Zone where they are briefed on what they'll experience throughout the day. Students then rotate through four career zones, which consist of businesses from various industries. Students will spend 20 minutes in each zone, interacting with those businesses.
Each exhibitor is asked to provide an interactive, industry-specific activity. The goal of the activity is to introduce them to your industry and career field.
This experience can guide and influence students as they chose their elective classes for high school.
Sponsorship Opportunities
There are many opportunities to sponsor and further support Find Your Inspiration. If interested in becoming a sponsor of this event, please contact Kassie Linzmeier.