Talent & Education
Leadership Green Bay
Celebrating 40 years of legacy!
Inspiring leaders to enrich our community
A long-standing community leadership program since 1985, Leadership Green Bay convenes a cohort of professionals from a variety of business sectors to engage in monthly sessions that expose participants to various areas of our community, challenge their thinking, and inspire them to get involved in improving the quality of life for Greater Green Bay. The program is designed for driven professionals that are committed to personal, professional, and community growth with class sizes being around 40 individuals.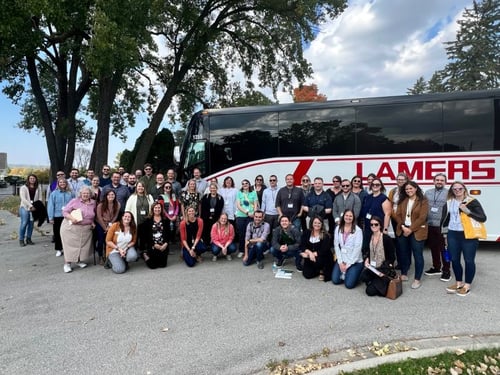 Running from September to May, the monthly gatherings include expert speakers, team-building activities, interactive lessons, and opportunities to build connections between classmates. The goal is to expose participants to various areas of our community, challenge their thinking and inspire them to get involved in improving the quality of life for everyone in the community. Details about dates and topics can be found by clicking here. Teams work on a project that benefits the community to raise awareness, solve a community issue, or help meet the needs of a nonprofit organization. Past projects can be found here.
Participants come from a variety of backgrounds: business, law, healthcare, government, non-profit, independent consultants, and more. This experience is for those who wish to build strong relationships, will work to improve our community after commencement, and are committed to their own personal and professional development.
Upcoming Event
Lead Where You Live- A Legacy Event
Join us for a Community Leadership-focused professional development event that showcases high-caliber Leadership Green Bay alumni!
Date: Wednesday, July 19, 2023
Time: 2- 4 p.m.
Where: Stadium View Banquet Hall

Interested in learning more about a future Leadership Green Bay Class?
Click Here to submit an interest form for the Class of 2024/2025.
---

Does your organization need help?
Leadership Green Bay does 6 projects each year and would love to know where there are needs in our community!
Complete this form to submit your project for consideration!
---
We love connecting community leaders to organizations.
If your organization has a Board Role you're looking to fill, please submit the Request Form.
If you are a community professional with an interest in joining a board, check out the needs that have been shared by clicking the "Find Board Roles" button.

History of Leadership Green Bay
Leadership Green Bay, a program of the Greater Green Bay Chamber, began in 1985 by 12 dedicated citizens who wanted to ensure that their legacy of leadership would continue for years to come. Since then, this professional program has grown to educate more than 1,200 leaders who have completed more than 150 projects that have shaped Greater Green Bay.
Refer someone to Leadership Green Bay
If you've enjoyed your experience through Leadership Green Bay and wish to refer a friend or colleague, please contact Christine Gunderson at cgunderson@greatergbc.org.