Providing Future Restauranteurs the Keys to Success
Posted on Jul 6, 2023 9:28:53 AM by Josh Rogers, Incubator Director, The Cannery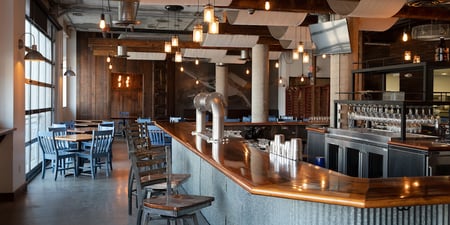 The Cannery – located at 320 N Broadway in downtown–will reopen to the public on July 12 as a Test Kitchen and restaurant incubator. This unique concept will house and support early-stage food and beverage entrepreneurs, providing them an affordable turn-key space and access to tools and resources.
This endeavor is made possible through a partnership between the Greater Green Bay Chamber and Proof along with generous support from sponsors including Associated Bank, Schreiber Foods, and Base Companies.
The space will be operated by Proof, a Tennessee-based food & beverage incubator whose mission is to lower the barrier of entry for talented entrepreneurs, restauranteurs, and makers. The incubator will provide a way for Test Kitchen tenants to build knowledge and skills in a real-time, hands-on setting. Each tenant will learn how to make adjustments on the fly, ultimately setting them up for future successes as they graduate from the program and move into their own locations throughout the community.
The incubator model acts as a stepping stone into a traditional brick and mortar location, or food truck should the tenant so choose. It allows success to be achieved with a lower overhead, letting each business spend their time learning the technical business skills required to be successful in the long run. The tenants will sign short-term leases, ranging from
1-2 years, and will have access to a resource library, courses, coaches, and mentors. Once a tenant has reached a proficiency level that allows them to graduate out of the program, the idea is that they open their own bricks and mortar location, taking their skills, experience, supporters, menus, and supplier relationships with them.
The Cannery Test Kitchen will offer its customers a variety of food and beverage options. Titletown Brewery is serving as an anchor tenant, operating the bar area, and they will also serve as a mentor to other tenants. Other contracted tenants include: Irie Jamaican, Olive's Pizza & Sandwiches, Colombian Flavors, and Five Thumbs Up (serving cheescake). The retail market will focus on curating a selection of local food & beverage products availble for purchase.
To learn more about the Incubator, The Cannery Test Kitchen, and tenant opportunities, please visit TheCanneryGB.com.
Topics: Economic Development