Chamber welcomes Mary Rhode as Director of Marketing
Posted on Nov 2, 2021 1:29:00 PM by Rick Sense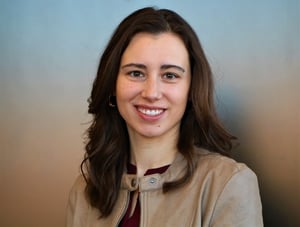 Green Bay, Wis.­ — The Greater Green Bay Chamber is pleased to welcome Mary Rhode to its team in the role of director of marketing. In this role, Rhode will play the lead role in the marketing and communications of the Chamber. Rhode's first day was on Oct. 25, 2021.
Rhode most recently served as inbound marketing specialist for Vye since July 2020. Prior to that, she served as vice president of marketing communications for the United Way Fox Cities and in other roles at the Fox Cities Convention & Visitors Bureau, WBAY-TV, and Par 5 Resort.
"As a proud and passionate 13-year resident of greater Green Bay, I am incredibly excited to channel that passion into my role at the Chamber," said Rhode. "I look forward to forging relationships with our members as well as promoting and sharing the good news of the Chamber with our vast audience."
"We are fortunate to add someone with Mary's talents, skills, and background to the marketing and communications team at the Greater Green Bay Chamber," said Rick Sense, vice president of development and government affairs at the Chamber. "Her experience, energy, and professionalism make her the right person for the role, and I am looking forward to seeing her achieve much success within the Chamber and throughout Greater Green Bay."
Rhode earned her Bachelor of Arts degree in business management from Silver Lake College. Her community involvement includes the Building for Kids Children's Museum, Current Young Professionals, and The First Tee of Northeastern Wisconsin.
Rhode can be reached at mrhode@greatergbc.org or by phone at 920.593.3416.
Topics: Staff